Maintaining a website is essential for any business in today's digital age. It is particularly crucial for an auto repair business as the majority of customers now search for repair shops online.
A well-maintained website can help you attract new customers, build brand recognition, and retain your existing clients. However, maintenance work requires a significant investment in time and effort. This can be a bit overwhelming, especially for those who are not tech-savvy. Nevertheless, there are a few simple steps that you can look into so you can have a fully-functional website for your auto repair business.
How To Maintain an Automotive Repair Site
The following can be considered for your website maintenance requirements:
1. Regularly update your website.
This is an essential part of maintaining a website. It keeps your content fresh, relevant, and engaging for your audience. This means ensuring that your website's information is up-to-date and reflects your current services and prices. You can also add new content regularly, such as blog posts that provide useful information about auto repairs, industry news, and tips to help your customers take better care of their vehicles.
2. Implement an effective SEO marketing program.
SEO or search engine optimization is crucial to ensure that your website for auto repair appears on search engine results when potential customers search for auto repair services in your area. You can optimize your website's content for SEO by including relevant keywords, meta descriptions, and tags.
3. Have a mobile-friendly website design.
These days, most people access the internet using their mobile devices. Therefore, it's crucial that you work in ensuring that your automotive repair website is mobile-accessible. This means that it is properly optimized so the content can be viewed when using mobile devices, including smartphones and tablets. A website that is mobile responsive provides visitors with a seamless browsing experience, easy navigation, and fast loading time.
4. Ensure that your website is secured.
Security is a critical aspect of website maintenance. A secured website for auto repair helps protect, not only your business details, but also customer information from hackers and cybercriminals. In this regard, ensure that your website has an SSL certificate which encrypts data transmitted between your site and users. You can also install security plugins to provide additional layers of protection, such as malware scanning, firewall protection, and data backups.
5. Perform website analytics.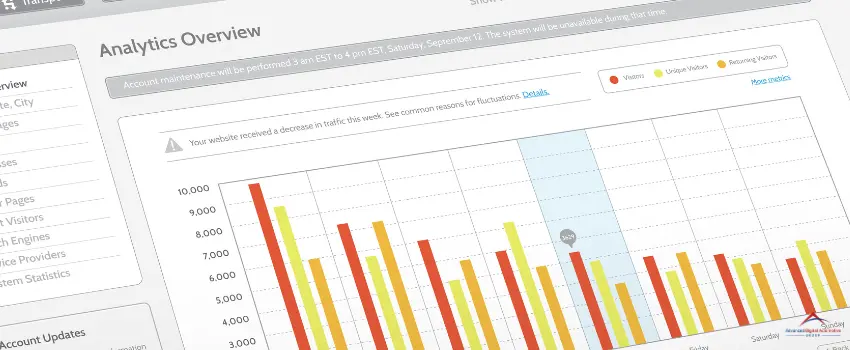 Website analytics help you understand how your website is performing and how visitors are interacting with your content. Use analytics tools to track traffic for your site, bounce rate, average session duration, and other relevant metrics. The data that you get should help you identify areas for improvement, including the optimization of your website's content and design so you can meet the needs of your audience better.
6. Get customer testimonials for your website.
Customer testimonials are a powerful marketing tool that can help build trust and credibility for your auto repair business. Encourage your customers to leave reviews on your website and on other online review platforms such as Google My Business and Yelp. You can opt to feature some of the best testimonials on your website's home page as a means of highlighting the quality of your services.
7. Integrate the website with your social media accounts.
Social media integration is an effective way to expand your online presence and reach a wider audience.This will allow you to share your website's content on different social media platforms, including Facebook, Twitter, and Instagram, and give you the opportunity to engage with your audience.
8. Perform regular website maintenance and updates.
Websites for auto repair shops need regular maintenance and updates to ensure that they remain relevant and effective. Regularly check your site for broken links, outdated information, and other issues. Ensure that software and plugins are updated to the latest versions so your website can experience improved functionality and security.
Key Takeaway
Maintaining a website for an auto repair business is not a one-time task that can be completed and then forgotten. Rather, it's an ongoing process of updating, monitoring, and optimizing your website's content and design to better serve your audience's needs.With a well-maintained website, you can establish your business as a trusted auto repair service provider in your area, and consequently result in increased revenue and business growth.
Obviously, this means spending lots of time and attention on your website, which is not always possible when you're running a business. This is where you can count on the expertise of professional digital marketers. Often, they do the real hard work of website maintenance and the results are undoubtedly excellent.
Level up your auto repair website performance with Advanced Digital Automotive Group.
In the digital world, having an online presence for your business is critical for success. For an auto repair company, a website is a powerful tool that can help attract and retain customers. For it to work, however, it must be properly developed and maintained. When it comes to websites, Advanced Digital Automotive Group is the acknowledged expert.
We offer more than just developing or designing your website though, because we also extend auto repair web hosting services. This is a rare and great deal for you. Call us today for the details.