Starting an auto detailing business can be a lucrative venture for those who have a passion for cars and a willingness to put in the hard work. However, with the car detailing market being highly competitive nowadays, engaging in this line of business requires careful planning and precise execution to ensure success.
Auto detailing involves the thorough cleaning and restoration of a vehicle's appearance, both inside and out. Despite stiff competition, an auto detailing business can grow quickly and generate significant profits given the right skills, tools, and an aggressive marketing strategy. However, before diving headfirst into this growing industry, there are important considerations that should be kept in mind.
How To Start a Car Detailing Business
There are at least 20 things that you should know first before you become an auto detailer and start your own company. They are as follows:
1. Do a market research on auto detailing.
Before starting a car detailing business, it is essential that you first conduct thorough market research to understand the demand for the service in your local area. You also need to size up your competitors by finding out the specific services that they are offering, their current prices, and their customer base. Such information will help you identify the market gap that you can fill with your own detailing services.
For the uninitiated, a market gap is a segment of the customer population that is either under-served or overlooked by your competitors. Finding this gap is crucial as this is the key that can differentiate your business from the competition. If handled properly, It can create a distinct market niche for you.
2. Prepare a business plan.
This is a comprehensive document that outlines your business goals, services being offered, pricing strategy, marketing plan, and financial projections. It is crucial that you have a business plan when starting an auto detailing business because it will help you stay focused and on track when it comes to achieving your goals. A business plan is also an effective tool in terms of securing funding from investors or banks if you need one. In this regard, it's best if you can consider hiring a professional to help you create a business plan that meets your needs.
3. Ensure that you meet all legal business requirements.
A car detailing start up business needs to be properly registered with the local government where it falls under. To do this, you have to obtain all the necessary licenses and permits so your business can operate legally.
To be certain with your business actions, it is always a good idea to do research on the legal requirements in your state or city when it comes to opening an auto detailing business. This will help you avoid encountering legal issues in the future.
4. Choose a suitable business location.
When finding out how to start a car detailing business, location is a crucial element that you should never disregard. Generally, it's best to choose a place that is easily accessible and visible to potential customers. You should also consider the size of the space that you need to accommodate your equipment and customers. If your plan is to operate a mobile detailing business, you need to have a reliable vehicle that can transport your equipment and supplies to different customer locations.
5. Buy your detailing equipment and supplies.
To provide high-quality auto detailing services, you have to purchase the necessary equipment and supplies. Common detailing equipment includes a pressure washer, buffer, vacuum cleaner, and detailing brushes. You also need to purchase cleaning products such as soaps, polishes, and waxes. It's also worth considering buying eco-friendly products to appeal to environmentally conscious customers.
6. Develop a pricing strategy.
This is crucial when starting a car detailing business. You need to develop a pricing strategy that is both competitive and profitable. Package deals and promotions should be considered in this case so you can attract customers. Simultaneously, however, you have to factor in the costs of your equipment, supplies, and labor when determining the prices for your auto detailing services.
7. List down your service offerings.
When you start your own automobile detailing business, you need to determine the services that you will be offering, such as exterior and interior detailing, paint correction, and ceramic coatings. Offering a variety of detailing services will help you attract a broader set of customers. Also consider offering additional related services like window tinting or mobile detailing as this can help the business to expand faster.
8. Develop a marketing plan.
A marketing plan is essential when opening a car detailing business. This is where you make various strategies to target your ideal customers through social media, email marketing, and local advertising.
Other than a marketing plan, you also need to create a professional business website where you can showcase your detailing skills, services, and pricing. A website helps you establish a strong online presence, especially when this is properly optimized through a well-designed SEO marketing campaign.
9. Hire the needed business staff.
Determine if you need to get people who can assist you in managing your car detailing start up. Hiring the needed personnel can help you provide high-quality services to your customers and is often one of the signs that your business is growing steadily.
For this purpose, you will need to develop a hiring process that includes job descriptions, interviews, and background checks of all prospective applicants. For those who get officially hired, it is important that they are given ample training to ensure that they will provide the same level of service that you would extend.
10. Provide excellent customer service.
This is essential to the success of your auto detailing business. You need to create a welcoming and professional environment for your customers. Respond promptly to all inquiries and concerns so you can build trust and loyalty. Offering personalized services and going the extra mile to exceed customer expectations can help you stand out from the competition.
11. Set up a work schedule program.
This is critical when starting an auto detailing business. Ideally, your business should have a work arrangement that accommodates your customers' needs while allowing enough time for you to complete every job order without delay. Effective time management is needed to ensure that you can finish all detailing works efficiently and without having to rush them. Implementing a booking system is also a good idea as this can help avoid cases of double job orders.
12. Network with other businesses.
This can also be done with other car care professionals in your industry, and is a great way of expanding your customer base while learning from one another's experiences. Joining local business associations, attending trade shows, and collaborating with other businesses can also help you build relationships and gain valuable insights on how to start a car detailing business and how you can sustain it.
13. Perform regular equipment maintenance.
Starting an auto detailing business does not only mean purchasing the needed equipment so you can work on a given detailing order. Maintaining your equipment is also an important aspect of the business. Unnecessary breakdowns can be avoided by creating a maintenance schedule that includes regular cleaning, repairs, oil changes, and other similar services. Alternatively, you can Invest in high-quality equipment that will not easily get damaged or broken. This can mean significant savings for the business in the long run.
14. Keep a record of all business transactions.
When you start your own automobile detailing business, it's good practice to keep accurate records of your finances, inventory, and customer data. Such information can serve as your reference point when you need to make important business decisions, such as adjusting your pricing strategy or expanding your services.
15. Ask for feedback and reviews from customers.
Doing this can help you improve your services and build your reputation, especially in the digital world. However, when you are just starting an auto detailing business, a customer review may not come right away. Given this, you should encourage clients to leave comments on your website, social media pages, or other review platforms. In this regard, keep in mind that when a review is received, whether positive or negative, a response is needed as this can help you build trust and credibility with your customers.
16. Avail of various learning opportunities.
The auto detailing industry is constantly evolving, and new trends and techniques are regularly being introduced. As such, when opening a car detailing business, you should be updated with detailing innovations that you can apply in your work. This can potentially interest car owners who could eventually become paying customers. Attending industry conferences and reading industry publications are some of the ways you can stay informed about any important breakthrough in auto detailing.
17. Provide customer incentives for repeat orders.
When customers are satisfied with the detailing service that you provided, they are more likely to return to you in the future. By providing incentives for repeat detailing orders, you can increase the likelihood that customers will choose your business over your competitors.
Incentives for repeat business is a great way of strengthening your relationships with your customers, inspiring them to keep coming back to avail of your detailing services. By showing your clients that you value their business and appreciate their loyalty, you can create a loyal customer base that will help your business thrive.
18. Stay committed to the business.
Starting a car detailing business and sustaining it is not easy. It takes time and effort for things to fall into place, even if initially, running the business is exciting and full of promise. Stay committed to your goals and continue to invest in your detailing business to ensure long-term success. Commitment can be exhibited through consistency: In providing quality customer service, and in keeping up with industry trends so you're aware what your customers may want when they come over for a detailing job
19. Consider getting insurance for your business.
An insurance package is an effective means of protecting your car detailing business. Accidents or other mishaps can happen at any time, and without the right insurance coverage, you could be liable for costly damages and legal fees.
It's important that you do research on the available insurance options for you. Similarly, you should consult with an insurance agent to determine the right coverage for your business needs. In general, however, it's best to obtain liability insurance so you can be protected from potential lawsuits.
20. Set realistic business goals.
This is important, especially if you're not exactly sure how to start a car detailing business. By setting a specific goal, you have some direction on how you want to proceed and the initial steps that you have to take. For example, you can set a goal to increase your revenue by a certain percentage over the next year.
If you can't set just one specific goal for your detailing business, having several of them will be fine provided that you break these down into smaller steps: This way, you can monitor your progress, which should keep you motivated. Tracking your progress towards meeting your business goals also gives you the opportunity to make the adjustments where they are needed.
Key Takeaway
Venturing into the world of auto detailing can be challenging, but if you have a good idea on what needs to be done, you can increase your chances of success. Conducting thorough market research, developing a comprehensive business plan, and understanding the legal requirements are some of the essential steps that should guide you at the start.
Since you'll be running the business in the digital realm, it's also clear that you should put up a website. This will serve as your main tool when marketing or promoting the business. This can mean spending time away from your detailing work, but this need not be the case. A trusted digital marketing company can be hired to handle all marketing efforts while you work on growing the business and achieving your goals.
Get a detailed SEO marketing plan for your car detailing shop from Advanced Digital Automotive Group.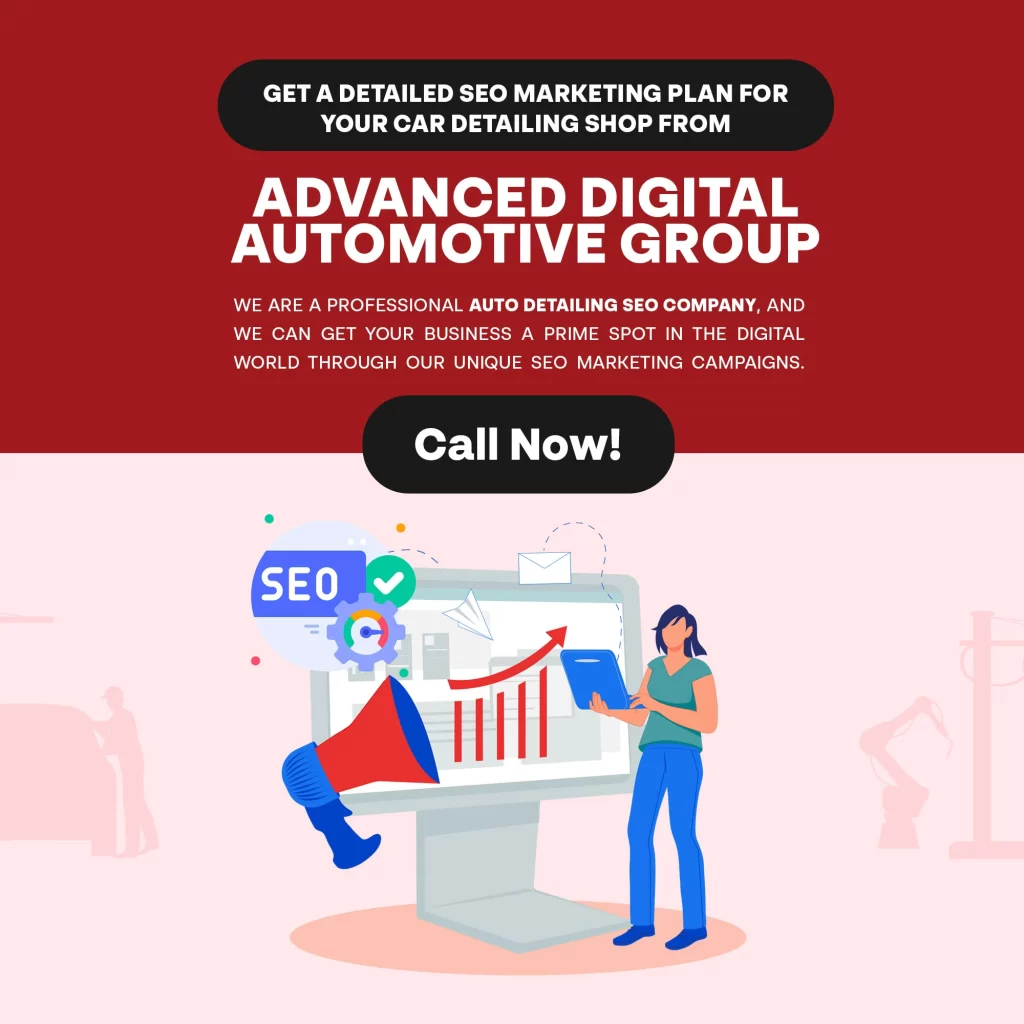 If you're into detailing cars, but online marketing is not among your best suits, that's not a problem. When it comes to marketing, Advanced Digital Automotive Group is always ready to help.
We are a professional auto detailing SEO company, and we can get your business a prime spot in the digital world through our unique SEO marketing campaigns. Give us a try and you won't regret it. Call us now so we can talk.